This fun, information-packed workshop offers in-depth knowledge about female anatomy, pleasure, and arousal alongside decoration of 3D models of the internal clitoral structure as sun-catchers
Clits & Crafts is the brainchild of Kate and Julia Turner, a somatic sex educator, women's circle facilitator and founder of Soul Stone Studio. They're both passionate about female embodiment, empowerment through education, and creating beautiful things. 
What began as a last-minute ornament decorating workshop in December 2022 morphed into regular, seasonally-themed sold out public events, and a bookable service for private celebrations (birthdays, bachelorette/divorce parties, etc.) and corporate functions.
These 3 hour workshops provide a safe, fun and cozy space to drop into your body, express your creativity and explore the mythology, history and cultural influences that have shaped how we think and talk about – or don't talk about – female bodies and female pleasure. 
You'll leave the workshop with new knowledge, a one-of-a-kind piece of art, and a smile on your face, guaranteed. 
All ages, bodies and genders are welcome!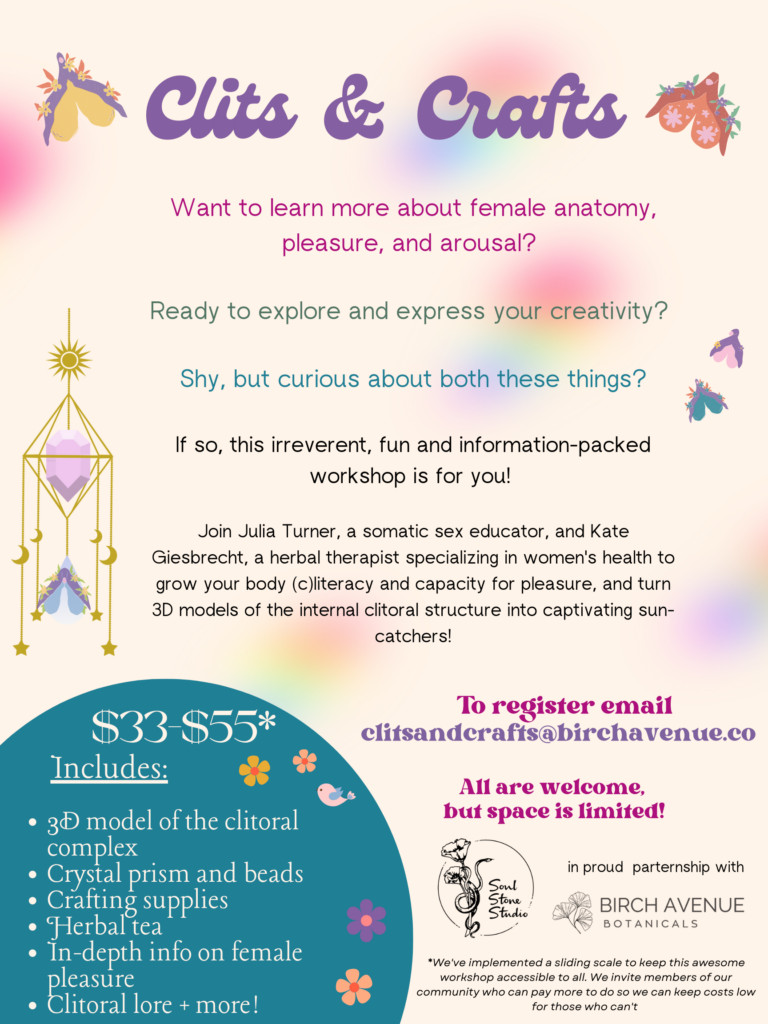 Included in the price of each workshop is:
Looking to book a private event?
Bring the fun of Clits & Crafts to your next bachelorette party, book club or corporate retreat! Premium packages with sweet treats, sparkling wine or herbal cocktails/mocktails are available. Email us to start planning your next event!
What participants are saying about Clits & Crafts
I loved this weird and wonderful workshop!
I was today years old when I learned about this part of my body. Why are we taught to feel shame instead of pride about this incredible organ? I'm so excited to display my clit catcher in my front window for all to see.
This workshop was so informative and FUN! I'm so glad I came and am going to encourage all my friends to sign up!
I had such a great time at Clits + Crafts! Jules and Kate delivered the sex ed lesson we all wanted and never got before. They demystified clitoral anatomy while giving context to the medical history and weaving in stories of female sexuality throughout mythology. An equally informative and fun afternoon. I loved spending time crafting a beautiful clit suncatcher that's now shooting rainbows around my bedroom.
I really enjoyed hearing the history of medical research around the clitoris and culturally held beliefs about female sexuality in time periods. I also loved the Greek myths.
I loved how much people wanted to share their stories and feel connected to a community through their bodies